Renuvion is an innovative skin tightening procedure that tightens loose skin without the need for surgery. This treatment uses a technologically advanced combination of waves and heat to bring the skin closer to the underlying muscles, resulting in a firmer appearance, with improvements immediately visible and improving with time.
How does Renuvion work?
Initially developed to combat loose skin following a liposuction procedure, Renuvion works by bringing your skin closer to your muscle by shortening the strands of tissue that bind them. The tightening effect is accomplished with the help of helium and RF (radio frequency) energy or plasma.
The RF energy electrifies the tendons, heating them, causing them to contract. This heat is then balanced by helium, which provides a cooling action without negating the positive effects of the plasma. This procedure is also referred to as J Plasma or J Plasty, paying tribute to the cutting edge scientific technology that makes it possible.
What is
the recovery like?
Patients undergoing a Renuvion treatment will find recovery to be extremely tolerable. Because it relies on energy technology and only requires a small incision, there is little to no downtime needed after the procedure. You will see the results immediately, and your skin will continue to tighten in the weeks and months ahead.
That said, each patient and procedure is unique. That is why it is so essential to work with an experienced Renuvion doctor. Your treatment must be performed with superior skills and experience to achieve the look you envision.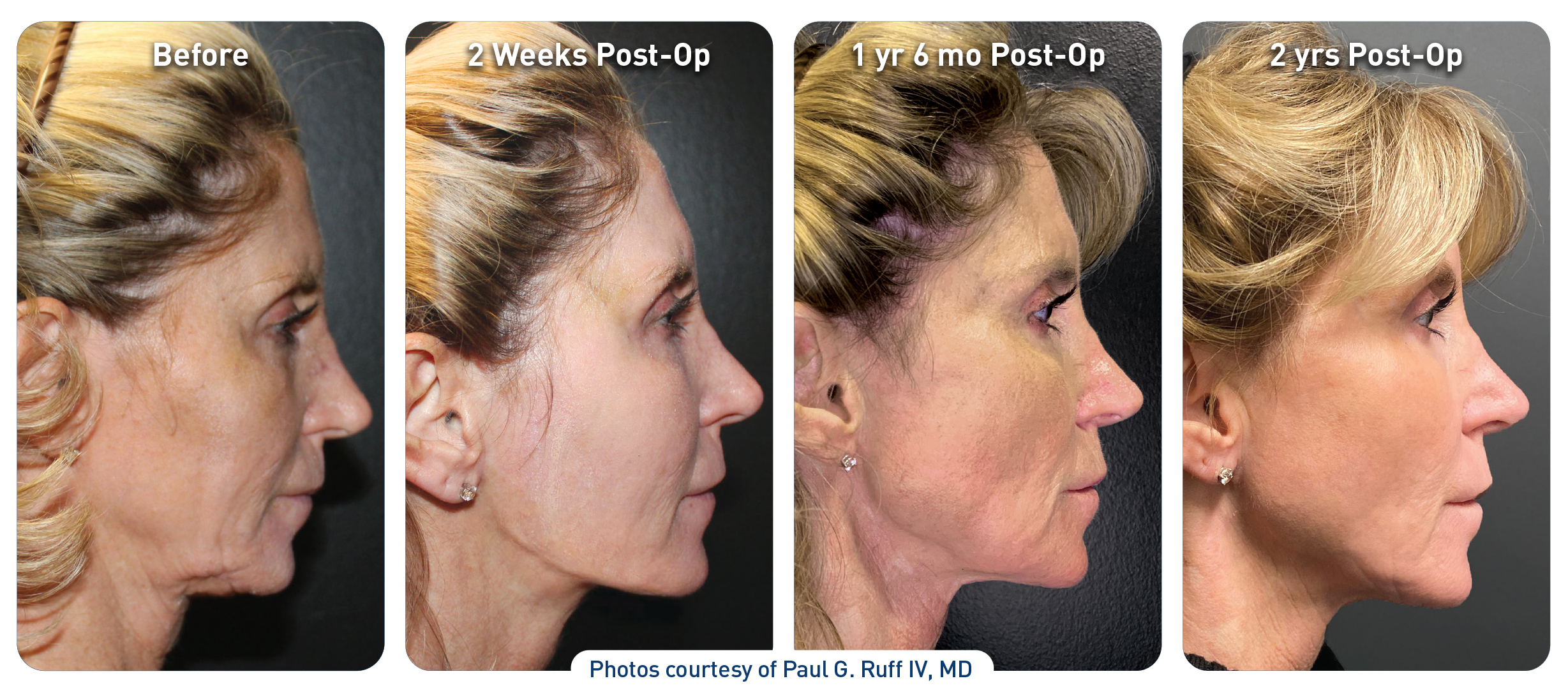 Does Renuvion

leave scars?

When you come to Montilla Plastic Surgery for hair restoration, we will draw your blood in our facility as though you were having lab work done. We use a closed, sterile centrifuge system to spin the blood, separate out the platelets, and remove any substance that could interfere with tissue regeneration and healing. Platelet-rich plasma is prepared containing 3 times the normal concentration of platelets in the blood.

The incisions needed to complete a Renuvion treatment is short. Generally measuring between one and two inches, you do not need to worry about long, visible scars. Moreover, the plasma stream created will have its temperature neutralized by the helium. The treatment tightens your skin and produces little to no swelling.
What areas of the body
can Renuvion be used on?
Renuvion has successfully been used on almost every part of the body. Whether you are looking to tighten the skin around your jawline or lift and shape your buttocks, Renuvion is a non-invasive and safe way to achieve remarkable improvements in skin quality and firmness. Some common areas patients have received successful treatment on include:
Arms
Outer and inner thighs
Chin
Jawline
Buttocks
Abdomen
Hips
Waist
Knees and calves
These are the most common areas treated, but Renuvion is proven to be effective at tightening skin on almost every area of the body. Due to its minimally invasive nature, it can restore a wide variety of face and body locations without risk or scarring.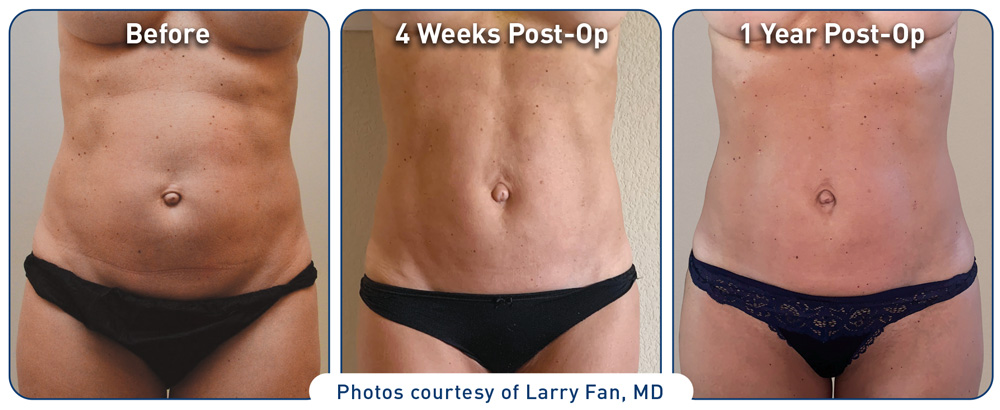 Am I a candidate

for Renuvion?

Renuvion is a minor, minimally invasive procedure. If you are in good health and are looking for a way to tighten loose skin without scarring or the recovery time that accompanies skin removal, you are likely a great candidate for Renuvion as a stand-alone treatment.

Renuvion can be a great add-on to other treatments as well. Liposuction and other body or face contouring procedures can produce impressive results when Renuvion is applied post-surgically, to tighten any remaining loose skin. Whether you are considering it as a stand-alone treatment or as a pairing with another procedure, our medical professionals would be happy to discuss your unique treatment needs and concerns.
Why choose
Montilla Plastic Surgery?
When looking for one of the best plastic surgeons in the Boston area, it's essential to consider both background and reputation. Dr. Richard Montilla has been practicing medicine since 1995, with scores of happy clients throughout Massachusetts. He is expertly trained and is Board Certified in Plastic and Reconstructive Surgery. He has successfully performed hundreds of cosmetic procedures throughout his career and volunteers his professional skills to the less fortunate through Surgicorps InternationaWorld. We have a hand-selected team of talented and welcoming staff with extensive experience with the Renuvion procedure and will happily guide you through each step of the process.
Practice Policy Update Regarding COVID-19
Dear Patients & Visitors
To limit the spread of COVID-19 and to keep the community and our patients healthy, Montilla Plastic Surgery is in compliance with CHCs guidance for the Commonwealth's Reopening website. Please see our Phase 1 Reopening Attestation.
In addition to the CHC guidelines, we are taking the following precautionary measures effective immediately:
All patients are asked to contact our office 508-948-4030 at least 24 hours prior to their appointment.
Any patient with symptoms of illness such as cough, fever, difficulty breathing, or upper respiratory symptoms must reschedule their appointment by calling 508-948-4030.
Notify staff immediately if you have traveled or have been in potential contact with a person known to have or suspected to have COVID-19.
At this time, patients may schedule an appointment in the office, and Dr. Montilla is available for telemedicine consultations and follow-ups as well.
Only patients will be allowed in the office and the exam rooms. Individuals accompanying the patients will be asked to wait in their cars. The only exceptions will be:

Patients who are minors (only one parent allowed to accompany the child)
Interpreters
Caretakers for Non-ambulatory or informed patients requiring assistance (only one allowed)

Governor Baker has put a mandatory moratorium on all elective surgeries beginning Wednesday, March 18th and continuing for at least the next two to four weeks.
All employees at Montilla Plastic Surgery will adhere to the Center for Disease Control and Prevention (CDC) and Massachusetts Department of Health and Human Services community mitigation strategies related to COVID-19.
CDC has identified older adults and those who have serious chronic medical conditions as high risk for getting very sick from COVID-19. Please notify our staff immediately if you wish to reschedule your appointment to a later date.
For more information about COVID-19, please visit CDC website, www.cdc.gov/coronavirus/2019-ncov/index.html
Thank you for your understanding and compliance to these limitations as we work together to ensure the highest level of health and safety for our patients, staff and community!