What is the Difference Between Liposuction and a Tummy Tuck?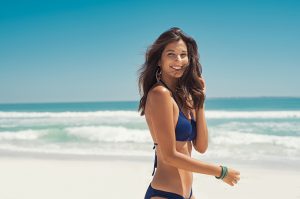 Today's image-conscious client follows a healthy lifestyle, eating the right foods and exercising several times a week. But what happens when all the hours at the gym don't do enough to provide the cosmetic results you seek? Stubborn fat and sagging skin in the belly can be difficult to get rid of without surgical intervention. 
Abdominoplasty and liposuction are two of the most powerful and effective body contouring options for slimming and toning the physique. However, these treatments differ in several important ways, so understanding their scope in more depth can help you make the best decision for your figure and lifestyle. 
What is liposuction?
Liposuction is a popular fat loss technique that removes bulges and bumps from your silhouette, streamlining your look and improving your wardrobe options. During the procedure, the doctor will create small incisions at the target areas, inserting a slender tube known as a cannula through the openings. Suction is then used to vacuum out the unwanted fat deposits, leaving behind smoother, more youthful contours. Liposuction can be used to treat the stomach, buttocks, back, chest, bra rolls, upper arms, hips, thighs, calves, knees, ankles, chin, and neck. 
Liposuction techniques can be modified in different ways, employing ultrasound, laser, or radiofrequency energy to emulsify the fat beforehand and make it easier to remove. These technologies offer the dual benefits of removing fat while simultaneously tightening sagging skin. 
What is abdominoplasty?
Abdominoplasty, or a tummy tuck, is a surgical procedure that removes fat and skin from the midsection and tightens the underlying stomach muscles that may have separated after pregnancy or with weight fluctuations. The incision is made stretching from hip to hip and is hidden by the bikini line as it fades. A second incision may be created around the navel.
A tummy tuck is often combined with liposuction to produce the most comprehensive anti-aging results possible. Some clients can opt for a mini tummy tuck, which addresses the area below the belly button. This treatment has inconspicuous scarring, a shorter downtime, and is typically less costly.
How can I tell which procedure is right for me?
If you are struggling with an excess of sagging skin around the abdomen, a tummy tuck will probably be your best choice. Liposuction cannot tighten loose skin or remove it; it can only eliminate pockets of unwanted fat. 
If you are concerned about visible incisions, liposuction may be the better option for you, as it comes with minimal scarring that is typically unnoticeable and fades quickly. The scar from a tummy tuck will stay prominent for several months after treatment but will fade over time.
Lastly, a tummy tuck requires more downtime. If you are busy and active and don't wish to undergo a lengthy recovery, then liposuction might be a better option for your goals. After liposuction, you can be up and walking around right away.
What is the takeaway?
With the warmer weather quickly approaching, many patients are eager to shed their Covid bodies and start the summer looking and feeling their best. Both a tummy tuck and liposuction can help sculpt your figure and jumpstart your self-confidence. It's just a matter of determining the best approach for your needs. Call Dr. Montilla today to schedule a private consultation and discover the best path towards achieving your ideal physique.